History of the WIMA Control GmbH
Since 1991 we ensure the quality of our customers. We measure, check, sort and pack screws, nuts and connecting parts of all kinds. In the process, we are constantly evolving. Here you can read our company history and how it all began.
1991
How it all begann: The foundation
In September 1991 Reinhold Willems and his son-in-law Walter Marienfeld founded the company WIMA Control GmbH in Heiligenhaus in North Rhine-Westphalia. The company name consists of the first letters of the surnames:
WILLEMS MARIENFELD Control GmbH.
At that time, owner and managing director Reinhold Willems could already look back on more than 20 years of experience in the screw and fastener industry and in the screw trade. In 1991 he came up with the idea of entering the field of quality testing, as this topic played an increasingly important role, especially in the automotive industry.
1992
First steps
Two employees, production area 300 m² with a testing and sorting machine
1996
First success
The WIMA Control GmbH becomes an associate member of the
Deutschen Schraubenverband e.V.
15 employees, production area 700 m², four testing and sorting machines
2000
Relocation of the company headquarters
Since the previous company building has become too small, the company moved its headquarters to Velbert in North Rhine-Westphalia in 2000 and moved into a new building.
30 employees, new building with 1,800 m² production area, 15 testing and sorting machines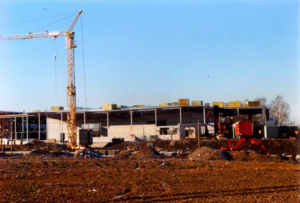 2003
Change in the management board
Walter Marienfeld is appointed Managing Director in 2003.
40 employees, 3,300 m² production area (building extension)
2011
Withdrawal of the company founder
Company founder Reinhold Willems is retiring from the business in 2011 for age reasons. Walter Marienfeld takes over as sole managing director.
2016
Anniversary: 25 years of WIMA
WIMA Control GmbH celebrates its 25th anniversary in October 2016.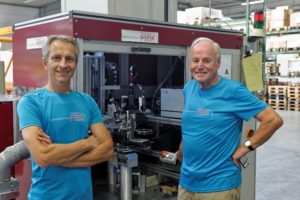 2019
WIMA Control GmbH today
WIMA Control GmbH inspects and sorts more than 120 million screws, nuts and connecting parts per month in two-shift operation.

50 employees, 3,300 m² production area, purchase of the 40th testing and sorting machine in the company's history.